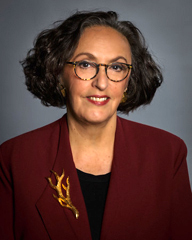 Ambassador Marcelle M. Wahba is the President of the Arab Gulf States Institute in Washington D.C. (AGSIW), an independent, non-profit think tank established in 2014. AGSIW is dedicated to increasing the understanding and appreciation of the social, economic and political diversity of the Arab Gulf States through expert research, analysis and programs, to inform decision makers shaping U.S. policy regarding this critical geostrategic region.
Prior to her appointment as President of AGSIW, Ambassador Wahba led DerMar International, LLC, a consulting firm focused on assisting American businesses and academic institutions seeking to establish or expand their presence in the Middle East. After retiring from the Foreign Service, she was the Senior Advisor for the GCC countries from 2008 to 2012 at PineBridge Investments, an asset management firm based in New York City. Other consulting assignments have included Booz Allen Hamilton, US Department of State, the Department of Defense and Northrop Grumman.
Ambassador Wahba retired from the U.S. Department of State in May, 2008, class of Minister Counselor, after a twenty two-year career spent mostly in the Middle East. Ambassador Wahba was confirmed as Ambassador Extraordinary and Plenipotentiary to the United Arab Emirates in October 2001 and served in Abu Dhabi till June 2004. She served from 2004 to 2006 as the International Affairs Advisor and Deputy at the National War College of the National Defense University. From 2006 to 2008 she was assigned to the Pentagon as the Foreign Policy Advisor to the Chief of Staff of the US Air Force.
Ambassador Wahba joined the Foreign Service as a mid-level officer and served as the Deputy Policy Officer in the Near East Office of the United States Information Agency from 1987 to 1988. She was then assigned to Cairo, Egypt, to serve as the Embassy Spokesperson from 1988 to 1991. In 1991 she transferred to the U.S. Embassy in Nicosia, Cyprus, as the Public Affairs Officer. Ambassador Wahba served as the Counselor for Press and Cultural Affairs in Amman, Jordan from 1995 to 1999 and in Cairo as Minister Counselor, from July 1999 to July 2001.
Ambassador Wahba received the White House Presidential Meritorious Service Award for her service in the UAE and was decorated by HH President Sheikh Zayed bin Sultan Al Nahyan with the UAE's Order of Independence (First Class). She received numerous Senior Performance Pay Awards, Meritorious Honor Awards and Sustained Superior Performance Awards.
Ambassador Wahba graduated from Western College for Women in Oxford, Ohio, with a Bachelor of Arts degree in Political Science and a minor in International Relations. She received a Diploma in National Security from the National War College, National Defense University, Washington D.C. in June 2006.
Ambassador Wahba is a member of the Council on Foreign Relations and serves on the board of CIEE, ANERA and on the board of advisors to the Bilateral US-Arab Chamber of Commerce.